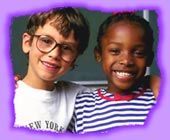 Select:
Public Schools
Private Schools
Universities
Distinguished Alumni
School Reports
Florida Department of Education

Florida Receives Good Grades

Headlines:


Florida's ethnic groups achieve higher ACT composite scores in 1999 than the same group nationwide. 1

A record number (55 percent) of Florida's 1998 high school graduates took the SAT, compared to 43 percent for the nation. Florida also continues to have a more diverse group of students taking the test than is true nationwide. 2

Miami-Dade Schools Rank Highly
Florida Department of Education's School Recognition Program named 20 Miami-Dade schools as Award Schools and 18 as Finalists--more schools than any other county in Florida.

Other Headlines:
Miami Springs Sr. High Teacher Honored with $25,000 award for education excellence.3

FL Education Commissioner to Visit Teacher of Year Finalist in Dade County 4

In 1999, 30 Miami-Dade teachers achieved National Designation, awarded by the National Board for Professional Teaching Standards, based on rigorous, high standards of teaching excellence.5


Miami-Dade Public Schools' Distinguished Alumni


Business
Amazon.com's founder Jeff Bezos, Palmetto Senior High, Class of 1982
Former Apple Computer CEO Gilbert Amelio, Miami Senior High, Class of 1961
Ryder Systems founder James A. Ryder, Edison Senior High, Class of 1934
Frito-Lay CEO Steve Reinemund, Coral Park Senior High, Class of 1966.

Government
Attorney General Janet Reno, Coral Gables Senior High, Class of 1956
EPA Administrator Carol Browner, Southwest Senior High, Class of 1973
Former Treasury Secretary Robert Rubin, Miami Beach Senior High, Class of 1956

Science
Astronaut Ken Mattingly, Edison Senior High, Class of 1954
Astronaut Bill Lenoir, Coral Gables Senior High, Class of 1956
Astronaut Winston Scott, Coral Gables Senior High, Class of 1968

Entertainment
ABC News Correspondent Barbara Walters attended Miami Beach Senior High
NBC Today Show producer Jeff Zucker, North Miami Senior High, Class of 1982



Barbara Sangetti, Realtor, ABR, CDPE, CRS, GRI, WCR



800-598-2122 x103
305-251-2127 x103
Realtor, RE/MAX Advance Realty
Member of 100% Club

© Copyright 2000-2012 Blue Reef Consulting, Inc.
Questions about this site? Write to webmaster@realestateinmiami.com.